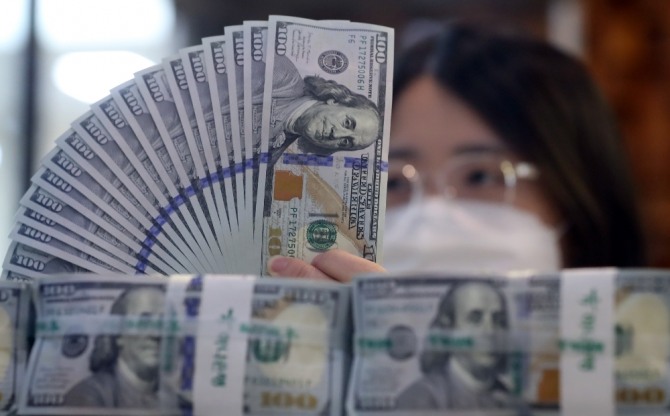 The won-dollar exchange rate is expected to surpass 1,400 won soon as concerns over the US Fed policy tightening continue.
In the Seoul foreign exchange market on the 16th, the won-dollar exchange rate rose 4.0 won from the previously day to 1397.7 won. The exchange rate opened at 1,399.0 won, up 5.3 won from the previous day. From the opening of the market, it surpassed the previous day's highest of 1,397.9 won. It is the highest level in 13 years and 6 months since March 31, 2009 (1422.0 won).
The dollar rose slightly. The dollar exchange index (DXY), which indicates the dollar's value against the 6 major currencies, was 109.442, up 0.08% from the previous day.
The yen, which rose the previous day, fell again due to the difference in monetary policy between the U.S. and Japan. As geopolitical risks grow due to Russian President Vladimir Putin's visit to China, the dollar-yuan exchange rate exceeded 7.0 yuan during the day.
The number of people who newly claimed workers' compensation insurance last week fell to a 4-month low despite aggressive tightening policy. The U.S. Department of Labor said Thursday that the number of new applications for unemployment benefits fell 5,000 to 213,000 last week.
In August, U.S. import prices fell 1.0% on-month for 2 consecutive months, and industrial production also fell 0.2% from the previous month, showing a poor performance than market expectations (0.0%).
Investors are watching the Fed's Federal Open Market Committee (FOMC) meeting scheduled to be held September 20-21.
By Global Economic Reporter Jin-joo Jeong ; Translate by Gounee Yang