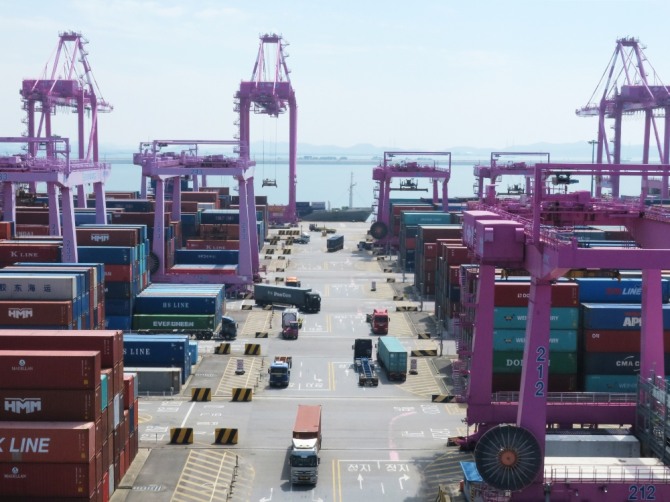 This year's trade deficit is expected to be the largest ever since statistics were compiled.
The Federation of Korean Industries (FKI) said on Wednesday that it surveyed the heads of research centers of 15 securities firms on the trade balance and exchange rate outlook and predicted that Korea will post a trade deficit of $28.17 this year and the won-dollar exchange rates will also hit record high of 1422.7 won. The survey was conducted online from Sep. 6 to 15.
The deficit exceeds the $20.6 billion deficit in 1996, just before the financial crisis, and the $13.3 billion deficit in 2008, when the global financial crisis hit. This figure is also the largest deficit since statistics were compiled in 1956.
The FKI said nearly 40.0% of the respondents predicted that trade deficit will exceed $30 billion.
In addition, 53.3% of the respondents said the trade deficit peaked last month, and 9 out of 10 (86.7%) predicted that the trade deficit would reach the peak within November this year.
However, most of the respondents expected the trade balance will recover from early February next year, so the deficit is expected to continue for the next 5-6 months, the FKI said.
Respondents expected exports to reach $695 billion this year with strong exports in the first half, exceeding the previous high of $644.4 billion in 2021.
When asked about the biggest threat to the domestic export industry, 60.0% of respondents said "global economic slowdown." It was followed by "supply chain difficulties due to the U.S.-China trade war (26.7%)" and "rising raw material prices (13.3%)".
Among the country's top 15 export items, exports of computers, semiconductors, and wireless communication devices are expected to significantly decrease in the second half.
Respondents said exports of computers are expected to decrease due to a decline in corporate investment and consumption caused by global economic slowdown. Exports of semiconductors are expected to decrease due to excessively accumulated inventory caused by falling demand.
Exports of wireless communication devices are expected to decrease due to the base effect of the COVID-19 boom and the launch of new Apple products.
The major export items expected to increase in the second half of the year were automobiles, secondary batteries, and petroleum products.
Exports of automobiles are expected to rise in the first half with improved price competitiveness due to the weak won and expansion of exports due to resolution of the automotive chip shortage.
In addition, exports of secondary batteries are expected to continue to increase due to rising demand for electric vehicles and policy support, and exports petroleum products are expected to increase with recent rising oil prices.
By Global Economic Reporter Jin-joo Jeong ; Translate by Gounee Yang