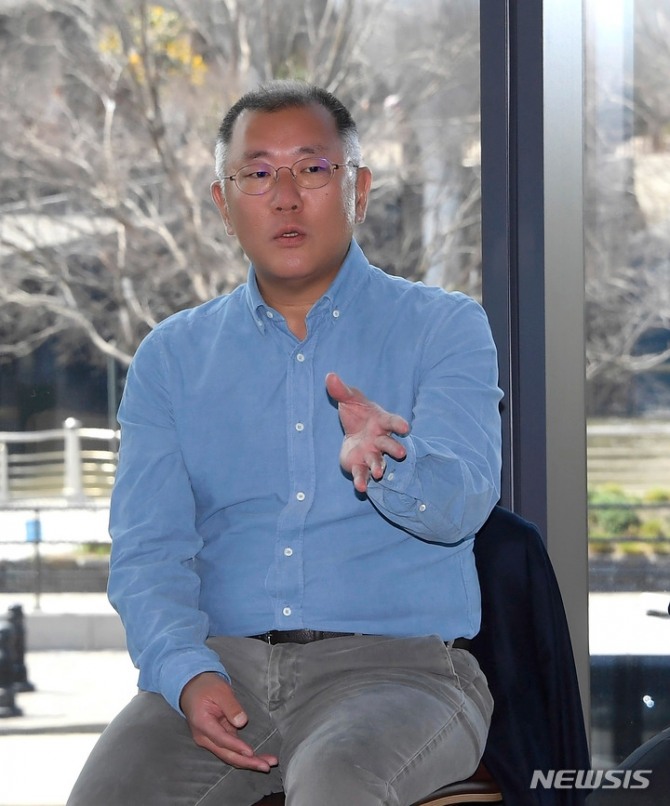 Hyundai Motor Group Chairman Chung Eui-sun went on a business trip to the U.S. again.
According to industry sources on Friday, Chairman Chung went on his business trip to the U.S. on the 21st less than a month after returning home from the business trip to the U.S. for 2 weeks on the 3rd of this month.
Chairman Chung previously visited the U.S. to discuss measures related to the recent U.S. Inflation Reduction Act (IRA), which excludes Hyundai Motor's electric vehicles (EVs) from subsidy.
During the business trip this time, Chung is expected to visit Hyundai Motor's U.S. sales unit in Los Angeles. He is expected to check the current status of the U.S. business and sales strategies.
Hyundai Motor Group is facing difficulty due to the implementation of the U.S. IRA. The bill included tax benefits of up to $4,000 for used EVs and up to $7,500 for new EVs to expand the EV supply. However, the problem is that such benefits will only be provided EVs manufactured in the U.S. and using battery materials and key minerals produced in the U.S. in a certain percentage.
All five EV models, including Ioniq 5, Kona EV, Genesis GV60, EV6, and Niro EV, currently sold by Hyundai Motor Group in the U.S., are produced in Korea. It means that all the five models will be excluded from EV subsidy and tax benefits. For this reason, Chairman Chung visited to the U.S. on August 23 and returned home on September 3 after completing his schedule.
However, Chairman Chung has reportedly failed to come up with countermeasures for the IRA.
Hyundai Motor Group is reportedly considering moving up the construction schedule of its EV plant in Georgia from the first half of next year to October of this year and starting operation in the second half of 2024.
By Global Economic Reporter Myeong-seok Chae ; Translate by Gounee Yang