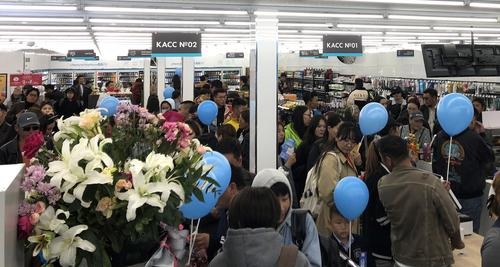 GS25 said Monday it has opened its 100th convenience store in Mongolia.
It has been 16 months since it entered Mongolia in May 2021 in partnership with Shunkhlai Group, the second-largest Mongolian business group. It has opened its 100th store, the fastest among Mongolian convenience store brands.
GS25 analyzed that the localization strategy, which combines Mongolian food culture and the Korean foods, and the strengthening of convenience store's multi-purpose functions were effective.
GS25's private-brand (PB) coffee "Cafe25" and dumpling products, which was developed as a convenience store product, are currently selling 20,000 packs per day in Mongolia.
The 100th store is located at the entrance of Terelj National Park, Mongolian landmark.
By utilizing the location advantages that attract more than 300,000 domestic and foreign tourists annually, GS25 plans to make its 100th store as a flagship store to promote GS25 brand.
At about 300
㎡
of store, more than 8,000 products that are about 3 times more than general convenience stores, will be sold.
GS25 entered Vietnam in 2018 and currently operates 186 stores.
By Global Economic Reporter Dae-min Jeong ; Translate by Gounee Yang