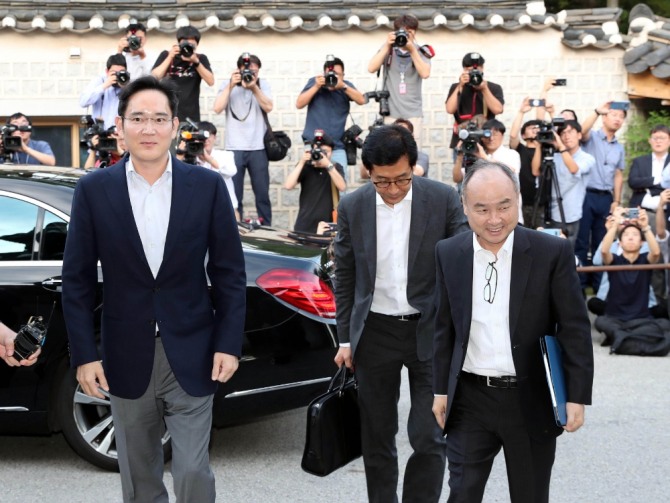 As Japan's Softbank Group Chairman Son Jeong-eui has visited Korea on Oct. 1, attention is being paid to whether he will meet with Samsung Electronics Vice Chairman Lee Jae-yong.
Chairman Son leads Softbank, the largest shareholder of U.K. chip design company ARM. He previously said he would discuss strategic cooperation with Samsung Electronics.
Earlier, Vice Chairman Lee also met with reporters when he arrived in Korea after business trips to Latin America and the U.K. on Sep. 21 and said that Chairman Son is expected to make some suggestions next month.
ARM, headquartered in the UK, has core semiconductor technologies such as CPUs and app processors (APs). In particular, it has AP design technology for IT devices developed and sold by Samsung Electronics and Apple, accounting for 90% of the market share in mobile chip design.
ARM was acquired by Softbank in 2016, and Softbank and Softbank Vision Fund hold 75% and 25% of shares, respectively. Chairman Son reportedly has started raising funds through ARM as Softbank recorded the largest deficit since its foundation due to the loss of Vision Fund.
ARM, which has an unrivaled technology in the chip design, has being considered for Samsung Electronics' M&A. Chairman Son's visit to Korea is drawing attention to whether Samsung Electronics will officially decide to acquire ARM or not.
However, the industry sources said that Samsung Electronics is unlikely to acquire ARM alone due to opposition from regulators. Therefore, it is expected that Samsung Electronics will acquire a stake in ARM to strengthen its strategic partnership or form a consortium with other companies to push for the acquisition.
지분
투자에는
삼성전자뿐
아니라
SK
하이닉스도
나설
가능성이
있다
.
박정호
SK
하이닉스
부회장은
지난
3
월
"ARM
인수
·
합병을
위해
다른
기업과
공동
투자하는
방안을
논의하고
있다
"
고
말한
바
있다
.
Not only Samsung Electronics, but also SK Hynix is expected to make equity investment in ARM. In March, SK Hynix Vice Chairman Park Jung-ho said, "We are discussing ways to jointly invest with other companies for the acquisition and merger of ARM."
Founded in 1990, ARM designs CPU and mobile AP structures and sells them to Samsung Electronics, Qualcomm, Apple, and NVIDIA. Its market share of mobile AP design reached 90%. It is estimated to be $2.7 billion in sales and up to 100 trillion won in corporate value last year.
By Global Economic Reporter Mi-yeon Soh ; Translate by Gounee Yang