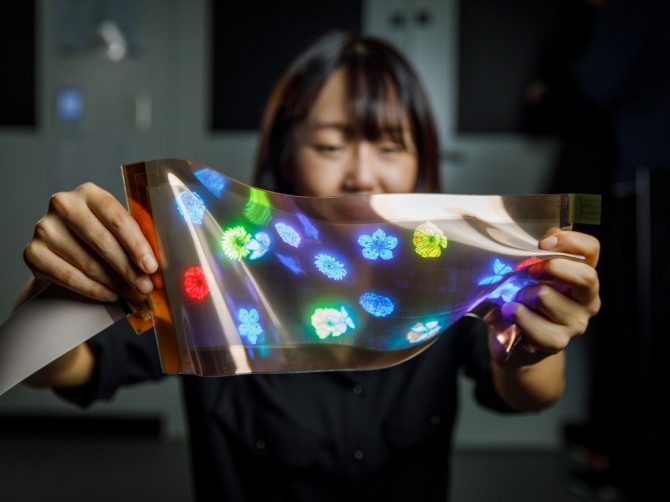 LG Display said Tuesday that it has developed the world's first stretchable display that can be extended, folded, and twisted without distortion or damage.
LG Display recently held a National Task Performance Sharing Meeting and unveiled a prototype of a 12-inch full-color stretchable display with high resolution that has achieved 20% stretchability.
The stretchable display is called the ultimate free-form display because it can be freely extended, folded, and twisted.
The prototype unveiled by LG Display can be stretched up to 14 inches with a high-resolution of 100 ppi. In addition, it has fully implemented red, green, and blue (RGB) colors at the same time.
In particular, it overcame technical challenges for commercialization by dramatically increasing stretchability, durability, and reliability, which are the core of stretchable display technology.
It has significantly improved flexibility by developing a flexible film-type substrate with silicon materials used in contact lenses. In addition, the sctetchable isplay uses a micro-LED light source with a pixel pitch of less than 40μm, securing a high level of durability to withstand significant external impacts.
Stretchable display is not only thin and light, but also can be attached to curved surfaces such as skin, clothing, and furniture, so it is expected to be applied to various industries including, wearables, mobility, smart devices, gaming, and fashion.
By Global Economic Reporter Jung-hee Kim ; Translate by Gounee Yang