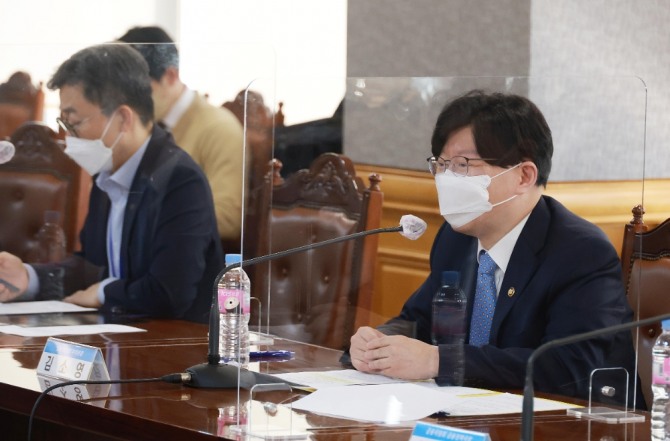 The Korean government has decided to support more than 2.8 trillion won for project financing asset-backed commercial paper (PF-ABCP) to ease market crunch.
The Financial Services Commission made the decision at a meeting to check the status of the financial market at the Korea Federation of Banks on the 11th with the Financial Supervisory Service and the Bank of Korea attending.
The Financial Services Commission said, "We have decided to prepare and push for additional policy support measures for PF-ABCP and commercial paper (CP)."
Under the decision, the government will provide more than 1 trillion won to PF-ABCPs backed by construction companies through the CP purchase program of the Korea Development Bank and the Korea Credit Guarantee Fund.
The Korea Development Bank will establish a special purpose corporation (SPC) to purchase the construction companies' PF-ABCPs, and the Korea Credit Guarantee Fund will guarantee 80% of the purchase amount.
About 1.8 trillion won will also be injected for brokerages-backed PF-ABCPs. Including 450 billion won invested by nine securities firms, 25% of the amount (450 billion won) will be provided to PF-ABCP-selling securities firms. Brokerage firms and development banks will be also supported.
The government will establish a SPC to receiving purchase applications from the 11th.
It will first purchase PF-ABCPs with A2 rating or higher and also purchase some A1 PF-ABCPs that may suffer from liquidity crisis in the money market at the end of the year.
Support for CP issued by securities firms will also be expanded.
The government will reduce the review period of the Korea Development Bank's CP purchase program from 10 business days to 5 business days. It will also expand existing programs and prepare to provide support through bond market stabilization funds.
In addition, the government is issuing treasury bonds with a minimum size this year.
The Ministry of the Interior and Safety and local governments will actively repay local and public bonds and repay a total of 3.4 trillion won of guarantee debt.
The Ministry of Economic and Finance is pushing for the distribution of bond issuance by public institutions, and the banking sector is also minimizing the size of bank bond issuance.
The government plans to continue its efforts to ease the supply and demand of bonds in the public and the financial sector.
Meanwhile, at the meeting, participants decided to strengthen cooperation between the government and the financial sector to prop up short-term money market.
By Global Economic Reporter Sang-hoon Park ; Translate by Gounee Yang