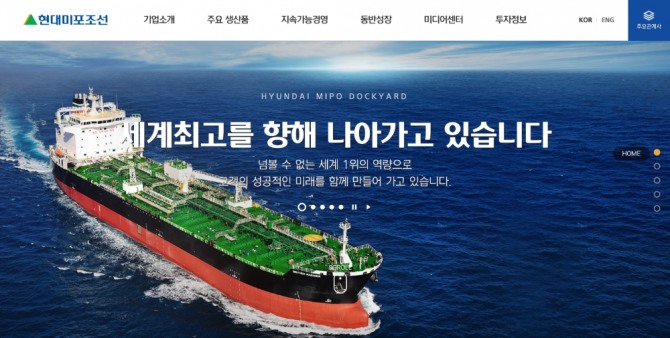 Hyundai Mipo Shipyard was newly included in the Morgan Stanley Capital International (MSC) Korean index, and 10 stocks, including GS E&C, were excluded.
According to the financial investment industry sources on the 11th, MSCI newly included Hyundai Mipo into the Korea Index in its semi-annual November review.
MSCI determines index inclusion based on the total market capitalization and free float market capitalization.
If included in the MSCI index, the inflow of global passive funds is expected.
However, 10 stocks, including GS E&C, Alteogen, Seegene, SK Chemical, Meritz Financial, CJ ENM, Amore G, CJ Logistics, Green Cross, and LG Household & Health Care, were excluded from the index.
LG Energy Solution has expanded its share due to the recent rise in stock prices. LG Energy Solution's current ratio in the MSCI index has increased from 10% to 15%.
The MSCI semi-annual review will be reflected in the index after the market closes on the 30th.
By Global Economic Reporter Yong-seok Jang ; Translate by Gounee Yang