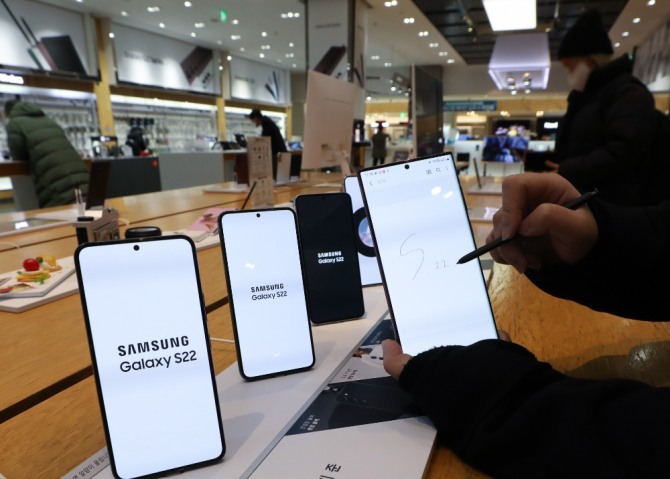 Samsung Electronics [005930] Galaxy S22 Ultra and LG Electronics plant growing device Tiiun were included in the Best Innovations selected by TIME magazine.
According to industry sources on the 11th, TIME announced that Samsung Electronics' flagship smartphone Galaxy S22 Ultra released earlier this year was selected as the 'Best Stylus Smartphone.'
TIME said that the Galaxy S22 Ultra is highly successful and creative that it brings S-pen, which was provided by the previous model Note series. It also said it is the most powerful S series that combines the strengths of the Galaxy Note and the Galaxy S series in terms of experience, camera, and performance.
TIME also said the Galaxy S22 Ultra can take extra-crisp video and photos, even at night.
In addition, based on its 4nm processor and 6.8-inch display, it is the best Android phone that can use powerful performance anywhere in work or daily life.
Samsung Electronics' portable projector The Freestyle and eco-friendly SolarCell Remote were also included in this year's best inventions.
TIME said The Freestyle is a mug-sized projector with excellent portability. TIME said it can swivel 180 degrees, and can be installed any surface such as wall, ceiling, and floor to create a high-definition image with the device's smart calibration feature.
For eco-friendly SolarCell Remote, it also focused on not only the existing solar panel charging function but also various charging features using the radio frequency of the Wi-Fi router.
Two products of LG Electronics, LG Tiiun and LG CLOi servebot were selected as the Best Inventions by TIME.
LG Tiiun is a plant growing device that anyone can easily grow various plants such as flowers, vegetables, and herbs.
Time said, "Gardening usually demands skill and patience. But if you live in South Korea, all you need is an LG Tiiun."
Regarding LG CLOi Servebot, TIME said, "Amid a labor shortage in the U.S. restaurant industry due to the pandemic, LG's launch this year of its new robot server was impeccable."
LG Electronics released CLOi Servebot in the U.S. in May this year. Currently, CLOi Servebot is operating at a Korean restaurant in Atlanta, Georgia, and the Four Points Hotel in Anaheim, California.
It is the first time that CLOi Servebot has been selected as TIME's best inventions since LG Electronics launched a commercial robot service in 2017.
By Global Economic Reporter Jung-hee Kim ; Translate by Gounee Yang