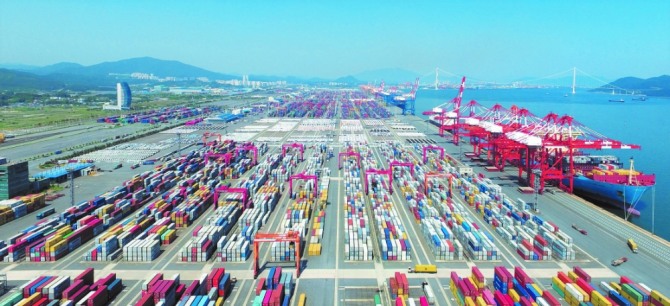 While Korea posted a trade deficit due to prolonged Russia-Ukraine war and global economic slowdown, ICT exports posted a surplus of $4.11 billion in October. However, the monthly ICT export has continued decrease. ICT exports fell below $18 billion for the first time this year.
According to the Ministry of Science and ICT on Monday, ICT exports in October amounted to $17.87 billion, down 10.3% year-on-year. Imports amounted to $13.76 billion, and the trade balance tentatively posted a surplus of $4.11 billion.
ICT exports have continued to account for more than 30% of total exports since July 2016. Average daily exports ($830 million, 21.5 days) decreased by 12.4% from a year ago ($950 million, 21 days).
By item, exports of semiconductors, displays, computers, and peripherals decreased due to falling demand for IT devices amid global economic slowdown, but exports of mobile phones increased.
For semiconductors, the non-memory chip exports increased for 19 consecutive months, but overall exports fell 16.2% year-on-year to $94.1 billion due to the decline in unit prices of memory chips.
Exports of memory chips have decreased for 4 consecutive months since June this year due to accumulated inventory, falling demand, and decline in prices. Exports of memory chips amounted to $4.47 billion this month, down 35.7% year-on-year.
On the other hand, exports of non-memory chips have continued to increase with the digital transformation trend, exceeding $4 billion for 5 consecutive months. Exports of non-memory chips increased by 17.6% year-on-year to $4.38 billion in October.
Exports of display fell 9.6% to $2.03 billion. Exports of LCDs amounted to $360 million, down 30.4% year-on-year, and OLEDs amounted to $1.43 billion, down 2.9%.
Exports of mobile phone parts increased by 30.2% to $1.27 billion with high demand for high value-added parts, while finished mobile products decreased by 28.8% to $290 million. As a result, exports posted a surplus of $1.55 billion, up 13% year-on-year.
Exports of computers and peripherals fell 30.9% year-on-year to $1.03 billion as demand for IT devices have decreased due to the global economic slowdown.
By region, exports to major regions such as China (including Hong Kong), Vietnam, the U.S., the European Union, and Japan decreased due to falling demand and production cut.
By Global Economic Reporter Dae-min Jeong ; Translate by Gounee Yang