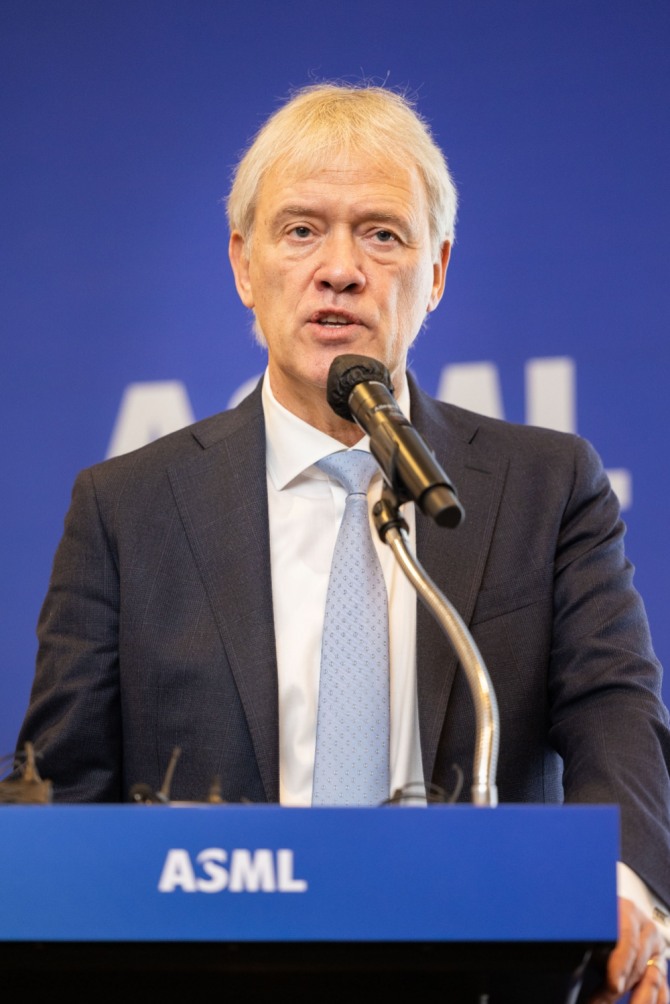 Peter Bennink, CEO of ASML, a Dutch semiconductor equipment company, said he expects synergy with Korean chipmakers through new chip campus in Hwaseong.
Bennink and ASML Korea CEO Lee Woo-kyung held a press conference at the COEX Intercontinental Hotel in Seoul on the 15th and explained their investment plans.
Bennink visited Korea on the 16th to attend the groundbreaking ceremony of the new campus in Hwaseong.
The new campus, which ASML invested 240 billion won to complete by the end of 2024, will have DUV and EUV equipment remanufacturing center, training center, and experience center.
Regarding the new campus, Bennink said, "Korean customers' business is rapidly growing rapidly. It is critical to closely collaborate with local customers at a time when the technical complexity goes up."
He added, "It is also important to be located closely to customers for remanufacturing business."
This is because parts can be procured locally through remanufacturing, and partnerships with Korean companies can be further expanded.
ASML is an only company that manufactures EUV lithography equipment.
The lithography process is a technology that prints fine and complex electronic circuits on chip wafers. The EUV lithography system can print circuits with short wavelengths.
The global semiconductor companies are fiercely competing to secure EUV exposure equipment.
Samsung Electronics Chairman Lee Jae-yong also visited ASML headquarters during his business trip to Europe in June this year and met with ASML executives, including CEO Bennink.
Bennink is expected to meet with Lee again during his visit to Korea and discuss ways to cooperate.
Regarding ASML's equipment supply and demand status, Bennink said, "Despite economic slowdown next year, demand for our products is still higher than the supply. It will take longer from ordering equipment to actual delivery."
This is because demand for EUV equipment is rapidly increasing, but it cannot increase shipments.
Bennink said, "Considering orders and shipments by next year, there is no problem with demand. We will make efforts to produce more equipment with our partners."
ASML's new campus is the result of the Ministry of Trade, Industry and Energy, Gyeonggi Province, and Hwaseong City working together to attract investment from 2020.
The ministry has recently eased regulations to attract investment and has continued to discuss additional investment.
Through the Hwaseong New Campus, it is expected that ASML and domestic chipmakers will strengthen their partnership and supply chain of materials and parts will be further strengthened.
By Global Economic Reporter Jung-hee Kim ; Translate by Gounee Yang