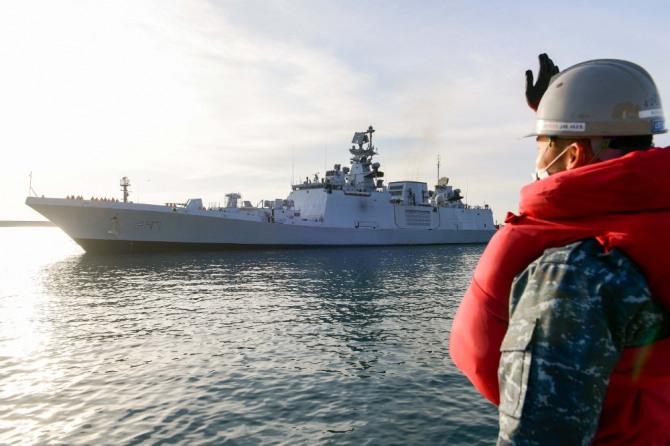 The Indian Navy ships INS Shivalik (F-47) and INS Kamorta (P-28) arrived at the Busan Naval Base, on the 21st to promote friendship with the South Korean Navy.
The Shivalik is a 6,800-ton ship with a length of 144m and a width of 16.9m, with about 250 crew members, and the Kamorta is a 3,500-ton patrol ship with a length of 109m and a width of 13.7m, with about 120 crew members.
The Naval Operations Command designated the 4,900-ton landing ship, Nojeokbong, as a Host Ship.
Designating host ship is an international etiquette that provides convenience to foreign ships visiting their countries and exchanges between ships.
The South Korean and Indian navies will conduct various military diplomatic activities, including visiting ships, reception organized by the Indian Navy, and sports activities.
After departure, the two countries will conduct joint military drill consisting of training for approaching maritime mobile logistics and helicopter takeoff and landing.
During the Korean War, India dispatched 627 medical personnel, the largest number among countries sent medical personnel, to perform 2,300 surgeries from November 1950 to February 1954, and treated 20,000 people, including South Korean soldiers, U.N. forces, and civilians.
The diplomatic ties between Korea and India occurred in 1973, marking the 50th anniversary next year.
By Global Economic Reporter Sang-hoon Park ; Translate by Gounee Yang