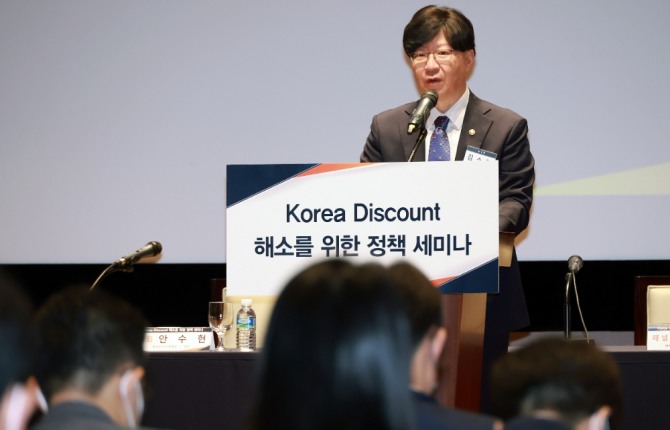 South Korea's dividend system will be reorganized so that investors can check dividends to decide whether to invest. The foreign investment registration system will be abolished.
The Financial Services Commission announced the capital market advancement plan at the Korea Discount Relay Seminar held at the Korea Exchange in Yeouido, Seoul on the 28th.
Kim So-young, vice chairman of the Financial Services Commission, said in an opening statement, "We will improve the dividend system with the Ministry of Justice to allow investors to check dividend first and decide whether to invest."
According to the current dividend system, listed companies decide on shareholders to receive dividends at the end of December every year, and pay them in April after deciding the amount of dividends at a shareholders' meeting in March.
Kim said, "Investors should accept dividends decided a few months later after investing without knowing how much dividends they will receive."
Kim added, "As a result, global dividend stock fund managers depreciate Korean dividend stocks and are even reluctant to invest."
If the system is reorganized, it is expected to increase the predictability of dividend investment.
Companies are also expected to expand dividends to attract investors.
Jung Joon-hyuk, a professor at Seoul National University's Graduate School of Law, said, "It should be clearly informed that the dividend date should be determined after the regular shareholders' meeting."
He also pointed out, saying, "In the case of quarterly dividends under the Capital Markets Act, it should be revised because it only stipulates that the dividend base date should be set first and then the dividend amount should be determined."
He added, "The government should present regulations on how to determine dividends and determine shareholders to receive dividends, and inform it through the corporate governance disclosure reports."
The foreign investment registration system will be also abolished.
The foreign investment registration system is a system in which foreigners who want to invest in Korean stocks must register their personal information with financial authorities in advance. It has been maintained for 30 years since foreigners were allowed to invest in listed stocks in Korea for the first time in 1992.
By Global Economic Reporter Sang-hoon Park ; Translate by Gounee Yang