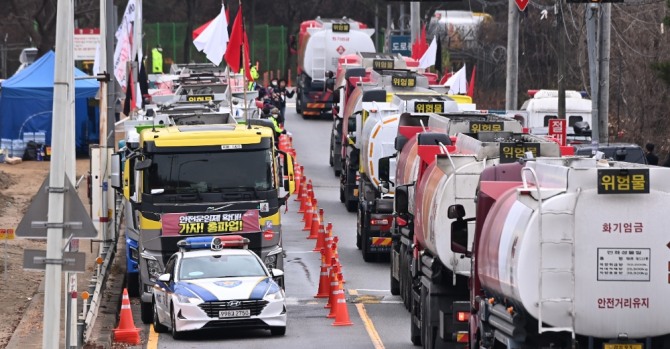 As the Korean Confederation of Trade Unions' truckers union has been on strike for five days, concerns are growing that domestic steelmakers such as POSCO and Hyundai Steel could stop operating their factories. As shipments have been suspended since the 24th, inventory is currently being accumulated. If the strike is not resolved within this week, the production is expected to be delayed.
According to industry sources on the 28th, inventories are rapidly increasing at POSCO and Hyundai Steel production plants as shipments have been suspended since the 24th.
POSCO's Gwangyang Steel Mill has been facing difficulties due to the suspension of shipments. Gwangyang Steel Mill previously suffered a daily shipment disruption of 15,000 tons due to a strike by truckers' union in June. Currently, at least 15,000 tons have not been shipped as the production volume of Gwangyang Steel Mill has increased due to the restoration work of Pohang Steel Mill.
On the other hand, POSCO Pohang Steel Mill is reportedly good in logistics congestion and inventory. The flood recovery is also being smoothly carried out. A POSCO official said, "Materials for flood recovery are currently transported."
However, Hyundai Steel's steel shipment has been stopped due to the strike. Since the 24th, it has not been able to ship about 50,000 tons a day from its factories, including Dangjin, Pohang, and Ulsan.
The industry sources expect0 that if the strike is not resolved within this week, the operation of POSCO and Hyundai Steel plants will be disrupted. The two companies have continued to ship, but are lowering their factory inventory as much as possible. Therefore, it is unlikely that there will be a disruption in production immediately.
An official from Hyundai Steel said, "We do not ship products on weekends, so the company is not affected by the strike yet. We have shipped a lot of steel products already and inventory is also good. But if the strike is prolonged, there may be disruptions in operating the factory."
POSCO and Hyundai Steel previously stopped the operation of their factories due to the strike on June 7.
On June 13, a week after the strike, POSCO suspended the operation of its wire rod plant at Pohang Steel Mill. It also shut down the cold-rolled steel plant 2. Due to the suspension of operation, production of 12,000 tons a day, including 7,500 tons of wire rod and 4,500 tons of cold-rolled steel, was disrupted.
After the strike, Hyundai Steel also had to stop its plant due to increased inventory. The 120-ton class electric furnace at the Incheon plant stopped for 10 days and 100-ton class electric furnace at the Pohang plant for 8 days.
An industry official said, "It is believed that the product inventory is still available as products are not shipped on weekend. Due to the damage during the strike in June, companies have shipped a lot in advance this time."
He added, "If the inventory is accumulated due to prolonged strikes, companies should reduce the production. The strike should be resolved within this week so that companies can continue their normal operations."
By Global Economic Reporter Jung-hee Kim ; Translate by Gounee Yang