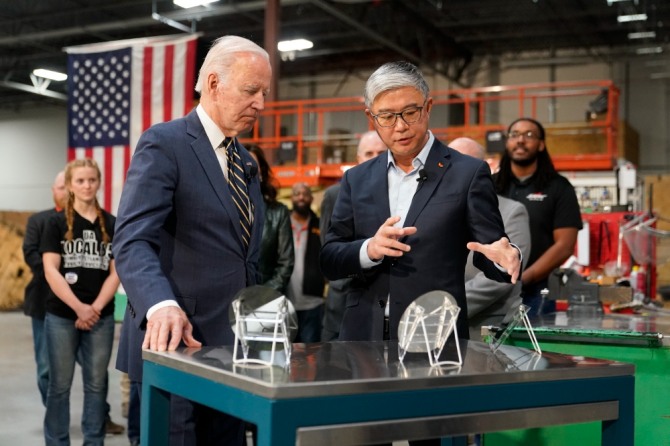 SK Siltron CSS, the first Korean plant in the U.S. visited by U.S. President Joe Biden, is SK Siltron's U.S. subsidiary. It produces silicon carbide (SiC) wafers, a key material for next-generation power semiconductors.
According to industry sources, SK Siltron acquired DuPont's SiC division in 2020 for $450 million (about 600 billion won) to establish SK Siltron CSS.
SiC wafers are key components of next-generation power semiconductors that are more stable and highly efficient in high-temperature and high-voltage environments than previous silicon (Si) wafers.
Power semiconductors made of SiC wafers are mainly used in electric vehicles (EV) and energy storage system (ESS).
Power semiconductors made of SiC wafers can reduce power consumption and improve driving range of EVs. Charging time is also reduced by about 75% and the weight and volume of an inverter connecting a battery and an electric motor can be reduced too.
The global SiC wafer market is expected to grow from about $61 million in2020 to about $3.6 billion in 2030.
In the early days of the establishment of SK Siltron CSS, there were only about 60 employees, but currently about 160 Korean and U.S. local employees were working at the plant in Michigan. Including the number of employees at the Bay City plant, the amount of job creation is expected to be larger than this.
An industry official said, "SK Siltron has become a leading EV parts manufacture, contributing to creating local jobs."
In March this year, trade minister Yeo Han-koo and Katherine Tai, the U.S. Trade Representative, visited the site to mark the 10th anniversary of the Korea-U.S. free trade agreement. The trade chiefs of the two sides visited SK Siltron CSS's plants in Auburn and Bay City
Tai said, "SK Siltron CSS is an exemplary case of economic cooperation between Korea and the U.S. This partnership between our two countries is an excellent example of how we can harness the innovation and talent of our citizens to create a cleaner, more sustainable economy."
SK Siltron CSS invested more than $300 million (about 370 billion won) in Bay City near its Auburn plant to build the new plant. The Bay City plant started the mass-production in September.
SK Siltron said, "SK Siltron CSS's SiC production capacity is expected to expand more than 10 times in 2025."
SK Siltron has also been mass-producing SiC wafers at its Gumi plant since September through production cooperation with SK Siltron CSS.
According to SK Advanced Materials Investment Center, SK Siltron's SiC wafer production capacity is expected to quadruple to 30,000 at the end of last year and 120,000 at the end of this year.
Kim Yang-taek, head of Advanced Materials Investment Center, said, "With the growth of advanced technology industries, the demand for SiC wafers is expected to grow more than 37% annually by 2025. We will make investment of about $640 million over the next five years to expand production facilities in Michigan."
Meanwhile, the White House announced on the same day that President Biden will visit Bay City, Michigan, and deliver a speech at SK Siltron CSS. It seems to be intended to stress his efforts to revitalize the U.S. economy through exemplary case of investment cooperation between foreign companies and the U.S.
Choi Jae-won, senior vice chairman of SK On, Yoo Jung-joon, vice chairman of SK E&S, and Jang Yong-ho, president of SK Siltron, are expected to attend. SK Group Chairman Chey Tae-won is reportedly unlikely to attend as he is attending the 171st General Assembly of the Bureau International des Expositions (BIE) held in Paris, France.
By Global Economic Reporter Jin-joo Jeong ; Translate by Gounee Yang