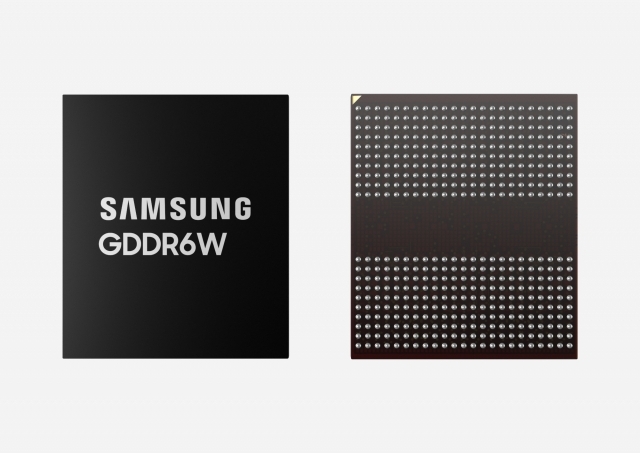 Samsung Electronics said Tuesday that it has developed a graphic memory "GDDR6W" with doubled performance and capacity based on cutting-edge packaging technology.
The high performance, high capacity, and high bandwidth memory is essential for digital Twin and hyper-real games that usually process the large amount of data.
Samsung Electronics explained that it developed GDDR6W, the next-generation graphics DRAM technology, for the first time in the industry to meet such demand.
GDDR6W increased memory bandwidth and capacity drastically by introducing a Fan-Out Wafer-Level Packaging (FOWLP) technology.
By using FOWLP package technology, performance and capacity can be doubled with a package of the same size as GDDR6.
FOWLP technology directly mounts memory die on a silicon wafer, instead of a PCB. It can implement high performance with finer wiring patterns by applying RDL (Re-distribution layer).
As there's no PCB involved, it reduces the thickness of the package and improves heat dissipation.
The height of the FOWLP-based GDDR6W is 0.7mm, 36% slimmer than the previous GDDR6 package with a height of 1.1mm.
While the semiconductor industry has developed towards scaling circuits as much as possible during the front-end process, packaging technology is becoming more important to improve performance.
Samsung Electronics have already completed the JEDEC standardization for GDDR6W products in the second quarter of this year.
In the future, the company will expand the application of the GDDR6W to new high-performance accelerators used for artificial intelligence (AI) and high-performance computerr (HPC) as well as small devices such as laptops.
By Global Economic Reporter Dae-min Jeong ; Translate by Gounee Yang