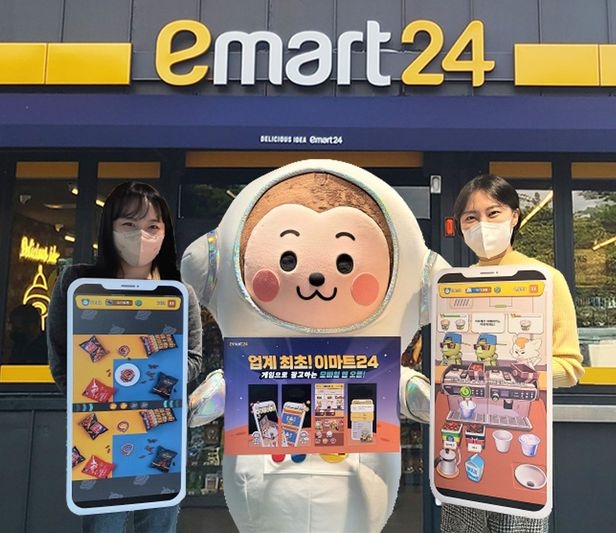 E-Mart 24, a convenience store brand of Shinsegae Group, has been focusing on various differentiated marketing activities.
E-Mart 24 has grown rapidly although it is a latecomer in the convenience store market, but has not expanded the number of stores much due to regulations on convenience stores.
According to related industry sources on the 29th, the number of CU and GS25 stores is over 15,000 and the number of 7-Eleven stores, including Ministop, is 13,000. On the other hand, E-Mart 24 has only 6,000 stores, more than twice as many as 7-Eleven.
E-Mart 24, which has been pushed back in competition of scale, will solidify its unique image through differentiated products and marketing activities.
Its unique marketing is playing a key role in attracting the young customers.
For example, its pop-up store "24BLACK," which was collaborated with the MMORPG game "Black Desert" and online luxury trading platform "Must It" in June, was visited by 14,000 people in just two weeks of opening.
Since then, it attracted family customers by opening "Munhak Park Square Store" using baby shark characters, and "Geumseong Branch Pop-up Store," a collaborative pop-up store with Geumseong Arcade, is also receiving favorable reviews.
At the pop-up store, unique products such as "Space Latte," "Space Ice Cream," and "Geumseong Cupcake," are sold, gaining popularity from mid-aged people as well as MZ generation.
In addition to pop-up stores, unique products of E-Mart 24 also played a key role in enhancing its competitiveness. E-Mart 24 released unique products that were not sold at existing convenience stores, such as a screen golf box priced at 50 million won, an electric bike priced at 3 million won, and an SSG Landers Caravan priced more than 36 million won, attracting lots of customers.
This time, the convenience store released a new mobile application with game service.
The app was created from the idea of the platform marketing team to create a differentiated marketing platform that had not existed before.
They developed games that can be enjoyed easily and conveniently by customers, such as "Making Lunch Boxes," "Making E-presso Coffee," "Spot the Difference of E-Mart 24 products" and "Space Delivery."
Users naturally see E-Mart 24's products while playing games on the app, and rewards obtained from the game can be used at online and physical E-Mart 24 stores.
E-Mart 24 plans to encourage customers to play games for a long time through a ranking system that provides additional rewards.
An E-Mart 24 official said, "We will continue to increase sales by allowing customers to visit and stay at E-Mart 24 through mobile apps. We plan to continue to strengthen our competitiveness through new products, marketing activities, and store development next year."
By Global Economic Reporter Myeong-seok Chae ; Translate by Gounee Yang