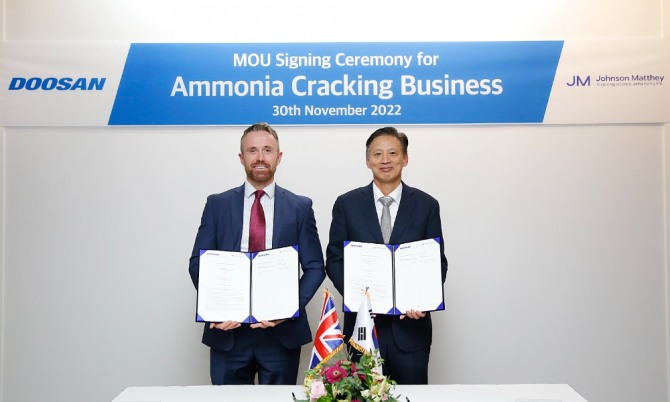 Doosan Enerbility will develop ammonia cracking technology that produces hydrogen by decomposing ammonia at high temperatures.
Doosan Enerbility said Thursday that it has signed a MOU with the U.K. Johnson Matthey (JM) to develop ammonia cracking technology.
Founded in 1817, JM is a UK-based petrochemical process license and catalyst manufacture, and posted sales of 26 trillion won last year.
Under the agreement, JM will provide ammonia cracking process design technology and catalyst, while Doosan Enerbility will provide technologies needed for project, such as ammonia decomposition process design and equipment production.
The two companies plan to jointly develop integrated design technology for ammonia cracking process and hydrogen complex power generation.
By Global Economic Reporter Sang-hoon Park ; Translate by Gounee Yang