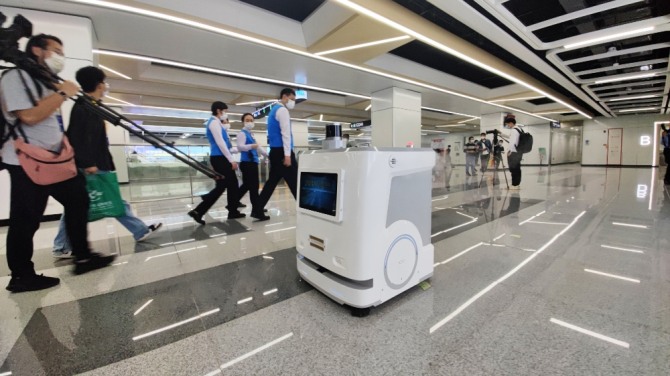 RESIDENTS who took rides on Metro Line 12 and the spur line of Line 6 when the two lines started operation yesterday praised the convenience of smart technology and user-friendly facilities.
At Zhongshan Park Station of Line 12, resident Fu Lanping passed through a turnstile by checking in using the handprint recognition system.
"It is very convenient, we don't need to use the transport cards or scan the QR codes anymore," Fu said.
In addition to facial and hand recognition systems at turnstiles, the intelligent customer service pavilions in Line 12's stations can help passengers complete information checks and intelligent payment, as well as provide interactive audiovisual services.
Inside the carriages, passengers can use wireless chargers to charge their mobile phones.
Video-talking systems are installed at the stations' halls and platforms for passengers who need help to contact the control room directly. Some stations also have baby nursing rooms for mothers and children, and accessible-friendly public toilets for the elderly and disabled people.
Li Xinjun, who lives near Zhongshan Park Station, took Line 12 at the station to go to Shenzhen Hi-Tech Industrial Park in Nanshan District.
"Before, it took about 30 minutes by bus from my home to the park, or sometimes an hour when there was a traffic jam, but now it takes about 15 minutes even if I have to transfer at Taoyuan Station," Li said during an interview.
According to the operator, Line 12 and the spur line of Line 6 are equipped with the GoA4 transport system, the highest driverless train operation system standard in the world. The trains are also equipped with a checking system that can conduct monitoring, alarms, diagnosis, assessment and analysis over operation systems.
The trains can also conduct automated safety checks including detection of objects, collision prevention and derailment checks.
At the Sun Yat-sen University Station of the spur line of Line 6, the city's first underground bicycle parking garage will soon be put into use to promote slow traffic and low-carbon commuting. The garage near Exit C can accommodate 180 bikes.
The 40.54-kilometer fully automated Line 12 travels between Zuopaotai East Station in Nanshan District and Waterlands Resort East Station in Bao'an District, passing Nanshan and Bao'an CBDs, as well as Shenzhen Bao'an International Airport and Shenzhen World Exhibition & Convention Center areas.
It has the most transfer stations in the city's Metro network, with 20 linking to existing Lines 1, 2, 5, 9, 11 and 20, and future lines that are under planning or construction. It is expected to relieve the traffic congestion in Songgang and Shajing areas.
The 6.13-kilometer spur line of Line 6, a fully automated line designed to run at 120 kilometers per hour, has four stations — Guangming, Zhenmei, Sun Yat-sen University and SIAT (Shenzhen Institute of Advanced Technology, Chinese Academy of Sciences) stations. It interchanges with Line 6 at Guangming Station and connects with Line 1 in Dongguan.
The operation of the two lines brought the length of the city's Metro network to 530 kilometers.
Since the beginning of this year, the city has put four lines into operation. Before the end of the year, Line 16 will be put into operation, which will bring the total length of the city's Metro network to 559 kilometers. By 2035, the city will form a railway network backboned by a 1,000-kilometer Metro network and 1,000-kilometer high-speed and intercity railways, according to the operator.
By Shenzhen Daily reporter Han Ximin